Cheek Height
Cheek Height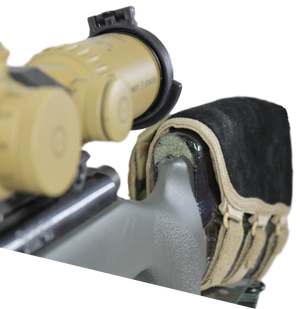 We receive a lot of questions about "comb height" or "cheek rise" as some call it.  What this refers to is the essential elevation of your head where your cheek bone lays on the comb of the stock so that you can comfortably rest your head to see through sights or in most cases optics such as riflescopes without straining your neck muscles from "craning" your head causing unnecessary tension that will impede you from aiming precisely.
Problem is that most rifle stocks are designed to work great with iron sights but don't offer a tall enough comb to work with modern riflescopes. Modern riflescopes have come a long way in innovation and now there are scopes with 34mm and 35mm tubes with up to 56mm objective bells. This creates a situation where the scope has to be mounted even higher so that the objective bell is not touching the barrel which in turn causes the shooter to require an even taller comb height.
Some modern rifle stocks can be upgraded with an adjustable cheek riser but those can get very expensive and sometimes are not reliable for situations outside of target practice at the range.  Some shooters still prefer a solid stock without mechanical adjustments.  So what can we do to remedy this?  Well, our Stockpacks come with several layers of double sided Velcro (hook & Loop) strips that can be stacked up to raise comb height (cheek rise) as needed and then will attach to the underside of the Stockpack.  This method works great and the layers stay attached to the pack when removing it for barrel cleaning.  Once everything is adjusted reinstallation is instant.
There is still another method to get higher cheek height that is totally reliable and also works well with our Stockpacks.  This is the preferred method if reliability is crucial, for extensive shooting sessions, spending long time periods behind the rifle observing or waiting for your target to appear or just because you want your cheek height adjustment to be rock-solid.
First step is to get yourself material to build a foundation, 3/8" thick foam (polyurethane) from a roll-up camping sleeping pad is recommended because it has the perfect firmness.  Similar materials like mousepad would work but you shouldn't use anything too soft or that will retain water.  You will also need duct tape.  Use real duct tape like Gorilla Tape that will stay adhered through all weather conditions.
Second step is with your bolt open fully, tape 1-strip directly onto the comb of your stock.  If more height is needed, tape down another strip over the first.  Make sure to tape the strips down in individual layers; 1) Stock – foam strip – duct tape – 2nd layer foam strip – duct tape – 3rd layer foam strip – duct tape.  Usually no more than 3 strips should ever be needed.
In the images below the rifle scope has a 50mm objective with a 34mm tube, 1.00 tall Badger Ordnance scope rings and the rifle has an M24 barrel contour.  The stock is a McMillan A1-3 and 2 layers of foam strips were needed for the shooter.
After you achieve your correct height you can cover everything with the Stockpack.  This adds comfort and will mostly cover the appearance of the tape.  Also you can fine tune your height with the Velcro riser strips if needed.  The Stockpack alone will add about 1/4" of height on average.
Check the cheek height by looking through your scope after each layer.  Prone position, lying down behind the rifle while using a bipod or resting on a backpack is best because prone requires the highest comb height so you will be in check to work with standing and kneeling shooting positions also.  Put the middle of your chin on the top of the comb and let your face slide down until you are resting on your cheek bone.  This will allow you to get a repeatable shooting position.  You should be able to completely relax behind the rifle to the point where you could fall asleep with absolutely no stress on the back of your neck.  Close your eyes for a few seconds and reopen them, you should be looking through your scope with a perfect picture of the reticle without having to reposition.
Be sure to pull back your bolt to check that there is enough room for it to fully open.  You can alternatively leave enough room to completely remove your bolt but keep in mind that this will put your further behind the scope so you might need to make adjustments accordingly to your scope mounting position.